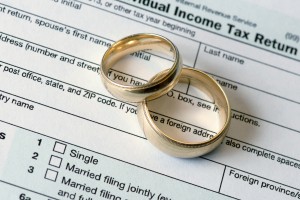 After getting married, it is a good idea for couples to take a hard look at their finances. Sitting down with a tax professional is important because they can help you figure out the best options for your specific situation, and there is a lot to consider that you may not realize. Take a look at the tips below before filing your taxes this year.
Decide which filing status is best for you – Before filing your taxes, you need to decide whether filing together is the right status for your financial situation. Taking a look at last year's tax return is usually a good starting point when estimating what your return will be this year. Generally, a married filing joint status is advantageous, but it may put you into a larger tax bracket.
See if you can take advantage of itemizing deductions – After evaluating your finances, you may realize that you have the ability to itemize deductions instead of just opting for the standard deduction. If you are able to itemize deductions it is important to keep track of the following: property taxes, cash and noncash donations to charity, union dues, medical expenses, mortgage interest, and more.
There are special steps when changing your name – If you change your name after getting married, you will have to contact the Social Security Administration by calling 1-800-772-1213 or by heading over to your local SSA office in person. You will need to have a copy of your marriage license and birth certificate so that you can get a new Social Security card. You will also have to complete and file Form SS-5 Application for a new Social Security card.
Update Your W2 Information: For those who just moved in together in the past year, be sure to give your employer this updated information so that your W2 gets sent to the right address. You will also need to notify the IRS of your change of residence, which can be done by filing IRS Form 8822.
When you get married within the year does not matter: Even if you were married on December 31, it will be your marital status for the whole year.